March 24-26

Vilnius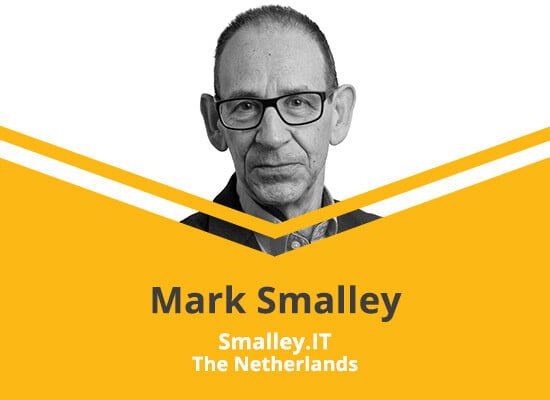 Mark Smalley, also known as The IT Paradigmologist, thinks, writes, trains and speaks extensively about IT 'paradigms' – in other words our changing perspectives on IT. Such as DevOps. Mark is a Trainer/Consultant at Smalley.IT and Master Trainer for GamingWorks' The Phoenix Project DevOps business simulation. He is Global Ambassador at the DevOps Agile Skills Association (DASA). He has contributed to various IT industry bodies of knowledge.
The Phoenix Project DevOps Business Simulation
Venue
Crowne Plaza Vilnius –
M. K. Čiurlionio str. 84, Vilnius, Lithuania
Due to the limited availability of seats, early registration to the workshop is strongly recommended to ensure your participation – we rely on a first-come, first-served basis.
This highly-interactive game for 8-12 people is based on the seminal DevOps book The Phoenix Project. As a participant, you play a Business, Dev or Ops role and experience issues from the book that reflect typical real-life DevOps challenges.
Your goal is to save the company, Parts Unlimited, from financial disaster by realizing value from IT investments. These investments result in business value, expressed in sales, costs, and share price. You have limited time and capacity, and therefore have to set the right priorities and collaborate across the whole business-IT-business value stream. The game is played in a number of rounds that represent a sprint of work.
The simulation provides a safe environment where you can experiment with different ways of working before applying them at work. The main areas of interest are usually prioritization based on business value, visibility of the value stream and the status of work items, effective collaboration, and continual improvement.
It is an excellent addition to traditional DevOps training. As Gene Kim, co-author of The Phoenix Project book and the DevOps Handbook, says, "there is a role for training and books – the goal of experiential learning is … to provide low-risk ways to try working in a different way … there's no better way than through simulations."
The Three Ways of DevOps feature prominently during the game:
Fast flow of work from business through development and operations, and back to the business where value is realised
Fast, frequent and good feedback
Continual experimentation, learning and improvement.
Continual experimentation, learning and improvement is achieved in the game by reflecting after each round on what happened, and deciding which improvements should be made for the next round.
The workshop comprises 4 rounds or sprints, with time for reflection and improvement after each round.
The day starts with the newspaper article about the dramatic situation of Parts Unlimited and the financial goals that have to be achieved to save their company.
Round 1 is a practice round. Students will receive some projects, features and issues so the team can start slowly with just a minimum of workload.
In round 2 the team will face a huge backlog of IT related issues such as: Incidents from the users of Sales, HR and Finance. There is a tremendous amount of work to do, everybody is busy but there seems to be no clear overview of all the work, what it is, why it is needed and what will happen if it isn't completed. IT Support cannot deliver the agreed Service Levels and are facing business demands to fix incidents faster and prevent the damaging business impact of sudden outages. However, IT Support needs capacity from IT Development to fix some of the critical incidents, but the developers are all tied up in new innovative development projects. IT Development has difficulties finishing all business features and projects since they have no clear understanding of the business priorities and the business demands are too many for the limited number of development resources. Another issue is the Testing Team that seems to find lots of serious issues in the new applications or systems that will cause serious business impact
In round 3 the CFO comes in with some serious SOX-404 compliancy issues that MUST be solved. It also looks as though the salaries may not get paid on time which will cause union issues and could hit the newspaper headlines! In the meantime, Retail Operations is becoming increasingly concerned about The Phoenix Project that's facing serious delays and issues, made even worse by the fact that revenue projections have been communicated to the financial newspapers. Retail Operations feels that the priority should be on this project. Besides this, there is still the backlog of features and issues from the previous round that required quick solutions. There are some new projects from HR that must be implemented on time. IT Support is facing serious issues with the SLA and the whole IT Team is reaching breaking point. 
The fourth and last round is the most important round. This is the last moment to plan the final activities and projects in the different teams of IT Operations and IT Development. It's now a matter of setting the right priorities and making the right decisions. The team now needs to learn how to introduce short feedback loops between the steps in the flow, rather than testing at the end of the cycle. Will they achieve their goals and save Parts Unlimited?!
At the end of the workshop we will look back at the whole day. What did we learn? What can we use in our day to day business?
To be discussed with the participants but usually a mix of:
How to apply DevOps principles in a real-life situation
How to find the right balance between delivering your SLA requirements and your IT projects according to plan
How to experience how DevOps can bring serious value to your business
How to increase the efficiency and effectiveness of your IT Department
How to create better flow in your teams
How to develop people's skills to act in a DevOps environment
How to show business their responsibilities in making IT Projects more successful
This simulation is targeted at all roles and employees in Business, IT Development and IT Operations who want to apply Lean, Agile and ITSM principles to improve the performance of their IT Services or to create more value out of their IT Solutions. This simulation is for organizations who want to develop their culture to achieve better collaboration and as a result, faster and error-free deployment of new IT Solutions.
No prior knowledge of DevOps is required, but participants with experience in the area will probably be able to make useful suggestions to improve the team's way of working.
The participants will not be using laptops – the only technology is the scoreboard used by the trainer.
Never miss our news!
We love email, and you should too. Your inbox is where you'll find all the latest announcements and deals.
BONUS: Subscribe & get previous conference video archive!